Verizon to debut Samsung Galaxy Note 9 BOGO deal later this week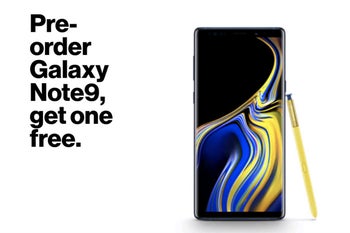 Samsung is expected to
unveil its new Note series flagship
on August 9 and start selling the phone on August 24. Pre-orders for the phablet are likely to open one day after the official reveal, as many retailers and carriers are gearing up for the big launch.
Since there are only a few days left until the
Galaxy Note 9
announcement, many of you have probably decided whether or not you want the flagship. If the answer is affirmative, then you're probably now anxious to find out what promos Samsung is readying for the
Galaxy Note 9
pre-orders.
Well, we've already reported about
some of these promos
that haven't yet been confirmed, but here is another one that's been leaked directly from the source. Verizon will kick off a Samsung Galaxy Note 9 BOGO (buy one get one free) deal once pre-orders open in the United States.
An image with the promo briefly popped up in the My Verizon app today, but there are no details on price yet. The most probable scenario is that Verizon will force customers to get the
Galaxy Note 9
on monthly bill credits in order to benefit from the BOGO deal, but we'll most likely find out more in just a few days.