Verizon PN-820 to be released soon
This article contains unofficial information.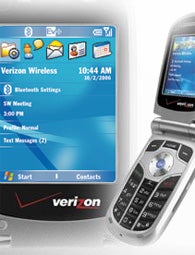 The first time we heard about the PN-820 was back in May, when it appeared on the FCC's website. At that time it was believed that it will lack EV-DO while featuring Wi-Fi. Now the PN-820 is on the VZ Testman website and apparently it will have EV-DO (judging from the screen shots), but Wi-Fi is not mentioned anywhere. The phone will run Windows Mobile 5 for Smartphones, meaning its display is not touch sensitive and the control and text input is accomplished via the keypad. Nevertheless, such devices are ideal for consumers who do not wish to carry around a full fledged Pocket PC, but still like the convenience to easily synchronize their phones and PCs via Microsoft Activesync as well as take advantage of the extensive list of PPC software.

The PN-820 was originally expected to launch September 4, 2006 but as we've seen many times, the scheduled launch was delayed. The phone appearing on the VZ Testman site though is a definite tell-tell sign that it will soon appear on store shelves.

| | |
| --- | --- |
| | PN-820's screen showing EV-Do icon |