Unofficial Samsung Galaxy A9 gets handled on camera next to the Galaxy A7
3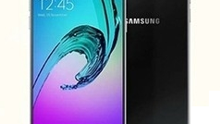 A few weeks ago, Samsung announced three updated smartphone models in the Galaxy A lineup: the
Galaxy A3 (2016)
, the
Galaxy A5 (2016)
, and the Galaxy A7.
As it turns out, Samsung apparently is working on a fourth model, a 6-inch phablet called the Samsung Galaxy A9. Just yesterday,
promotional material for the handset leaked online
, and now a four-minute unofficial video has reared its head online.
In the video, which you can catch below, the Galaxy A9 is handled alongside the
Samsung Galaxy A7 (2016)
, and we can easily notice the 5.5-inch display of the Galaxy A7 being dwarfed by the Galaxy A9's gargantuan 6-inch panel. Both are SAMOLED panels and the resolution of the screen, 1080 by 1920 pixels (FullHD), is consistent between the two models.
Aside from a larger screen, the Galaxy A9 is nearly identical to its more compact - if this word can be used to describe a 5.5-inch handset - brother. To start, the design lines are the same, as is the aluminum build.
When it comes to the internal components, it looks like Galaxy A9 will integrate similar hardware such as a 1.6GHz octa-core processor, 3GB of RAM, 32GB of internal storage, a fingerprint scanner, and a 13MP primary camera. A previous leak hinted that the Samsung Galaxy A9 will come with a 4000mAh battery, which gives hopes that the large screen won't translate into terrible battery life.
On the software side, the handset runs Android 5.1 Lollipop, but an update to Android 6.0 Marshmallow will probably follow as soon as Samsung is done updating its high-end models to the latest version of Android.


At this moment, it's unknown when the Samsung Galaxy A9 will see the light of day, but based on the increasing density of leaks, we'd bet on sooner rather than later. Previous rumors claimed that the handset will launch in January in China and Europe.