UPDATED: First picture of the Samsung Galaxy Lite
This article contains unofficial information.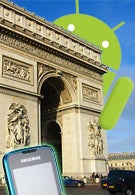 Yet again breaking news about Android device have come from the French Riviera. Well, not exactly. Actually, from a French site called FrAndroid that claims they have been sent a picture of the 
Samsung Galaxy Lite I5700
 by one of their readers. This is the first time we´ve seen the device and what´s even better, the image comes with information about its specifications. Allegedly, the Galaxy Lite I5700 will sport 3G functionality, Wi-Fi, trackball (unlike the Galaxy I7500), GPS and will roll out as a Google-branded device. It´s a bit odd that the button that calls up the home screen has disappeared, since its presence is required by the operating system. Perhaps the manufacturer placed it somewhere else or transfered the function to another button? The rumor has it the Samsung Galaxy Lite will become available through Bouygues Telecom just like the exclusive HTC Click (the latter going under an odd name, the HTC Tattoo) as we 
reported
 yesterday. The second Android-based Samsung is expected to hit the shelves in October.
*UPDATE*
According to GSMArena, the real name of the Samsung Galaxy Lite I5700 is actually the Galaxy Spica and similarly to the Omnia II, the Spica will be equipped with 800MHz CPU, which will make it the fastest Android-based handset ever released, unless another manufacturer manages to roll out an exclusive device in the short time remaining to the official release of the Spica next month.
source:
FrAndroid
 via 
EngadgetMobile
,
GSMarena