Twitter wins kudos from fans watching its NFL livestreaming debut
2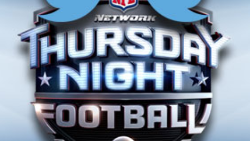 Twitter's first NFL livestream took place on Thursday night, and for the most part fans came away very impressed. The New York Jets scored their first win of the young season by beating division rival Buffalo 37-31. The stream was about a minute behind the CBS-TV Thursday Night Football broadcast, which might have led a notification that you forgot was enabled, to blab the final score on your phone while the Twitter feed was still showing the game.
Some complaints were made about the layout of the livestream, as a few viewers asked to see their own feed instead of the curated tweets that were shown during the contest. Others had suggestions, asking for a picture-in-picture option. Thursday's game was the first of ten that will be shown Thursday nights on Twitter, which means that there is plenty of time for some of the suggestions to be implemented in future games
Many were happy with the look of the livestream, which was close to HD quality throughout the game. And the game was easily found inside the Twitter app's Moments tab. One interesting note, having a Twitter account is not a requirement for watching the NFL games on the app.
It was a very good start for Twitter's NFL livestreams. The next four games will use CBS' coverage, while the last five will feature NBC's Thursday Night Football broadcast team.
source:
CNN