Twenty iOS productivity apps go on sale by Apple
2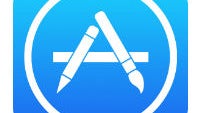 Want to be more productive with your Apple iPhone or Apple iPad? Apple has cut the prices on 20 productivity apps that are residing in the Apple App Store. One of the largest discounts belongs to
Writer Pro
. The app is priced at $4.99 versus the usual price of $19.99. This is a mobile text editor that checks your text for overuse of adjectives, repetitive nouns, and other mistakes. It is like having an editor on your iDevice, constantly looking for ways to improve your writing.
Other productivity apps priced at a discount by Apple, include
Scanner Pro
. For just $3, your iPhone becomes a portable scanner, perfect for the businessman on the go. Moving on, now priced at $1.99,
Notability
allows you to write or draw notes, memos, reminders and more. You can also link an audio recording to the creation of a particular note. For $2,
iTranslate Voice
allows for instant translation in 42 languages. And if you work with numbers,
Tydlig
allows you to create your own calculator, using a freeform canvas to make it easier to visualize calculations.
The discounts are for a limited timer only, and you won't find any games here, folks. These are apps to help you make it through each day a little easier. The complete list of discounted productivity apps includes
Clear
($2),
Notability
($2),
MindNode
($5),
Scanner Pro
($3),
Fantastical 2 for iPhone
($5),
Launch Center Pro
($2),
Boxer for Gmail, Outlook
($5),
Prizmo
($5),
Tydlig - Typing Reimagined
($1),
iTranslate Voice
($2),
Writer Pro
($5),
Grafio - Diagrams and Ideas
($4),
PDF Expert 5
($5),
PCalc
($5),
Gneo
($4),
Due
($2),
Todo
($2),
TextGrabber
($7),
MobileFamilyTree 7
($7), and
Scanbot
($1).
It certainly would feel great inside, to save money on the apps that save us time. Let us know which productivity apps on the list, you found that you can't go a day without using.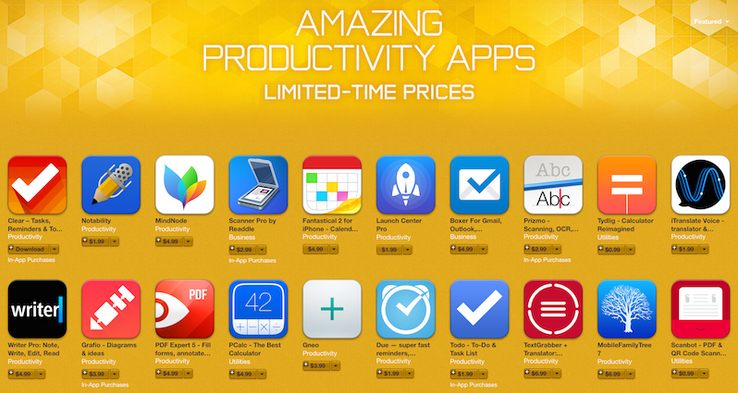 Apple has cut the price of twenty productivity apps in the App Store
source:
MacRumors