Tough Nexus 5 Bumper Case now available from Google Play Store
22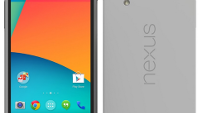 Need some protection for your
Nexus 5
? Now at the Google Play Store you can order a Bumper Case. Priced at $34.99, the specially designed accessory is available in red, black, yellow and gray. A combination case and bumper, the outside offers a hard outer shell and the inside features a soft rubber lining. Google says that "
the Nexus 5 Bumper Case works seamlessly with the Nexus Wireless Charger so you can charge and go
." In other words, a hole is cut out on the case to allow the charger cable to fit through a hole on the accessory allowing you to protect your phone while recharging the cell.
The dimensions of the Bumper Case are 142 mm x 74 mm x 10 mm and it weighs in at 19 grams. Last year's rubber bumper for the
Nexus 4
was more of a loose fitting accessory. This year's Bumper Case for the Nexus 5 is more of a snug fit, allow it to offer solid protection. Google says about the accessory, "
With a hard outer shell and soft rubber lining the premium Bumper Case absorbs shocks while protecting your phone.
According to the Google Play Store, the Bumper Case is not yet available, but will be coming soon.
source:
Nexus5BumperCase
via
Pocketlint