Google Nexus 5 Review
99+

Introduction
The Nexus. Those who follow the mobile sphere surely know what the word means, as it's the name given time-after-time to Google's line of pure Android smartphones. Ever since the first model, the
Google Nexus One
, it's been the company's way of showcasing its latest version of the Android platform. At the same time, it's meant to buck the usual trend in how consumers purchase a smartphone, so instead of going through the usual on-contract route, it's meant to be picked up outright – without one.
Last year's
Google Nexus 4
stood out primarily for its impressive low cost, which at $300 outright, gave other smartphones at the time something to worry about. Like seriously, how can you not be intrigued by that? Quite frankly, the evolution of the Nexus line has been a peculiar one, so it's nice to see that Google is yet again aggressively trying to reach the same results with the latest in the line – the
Google Nexus 5
.
As expected, this pure Android smartphone is endowed with the most cutting edge hardware – while featuring the latest version of the platform, Android 4.4 "KitKat." Thankfully this time around, it's now outfitted with 4G LTE connectivity too, which was one of the sore points of the Nexus 4. All told, there's something amazing brewing here, since the Nexus 5 itself is stickered with another impressive cost of $349 for the base model. This year alone, we've been bombarded with several flagship phones, especially from the Android front. Knowing that, can the Google Nexus 5 really overtake everyone and actually become that one device to instill inspiration and awe into users who grab it?
The package contains:
micro cable
Wall charger
SIM Removal Tool
Get Started Guides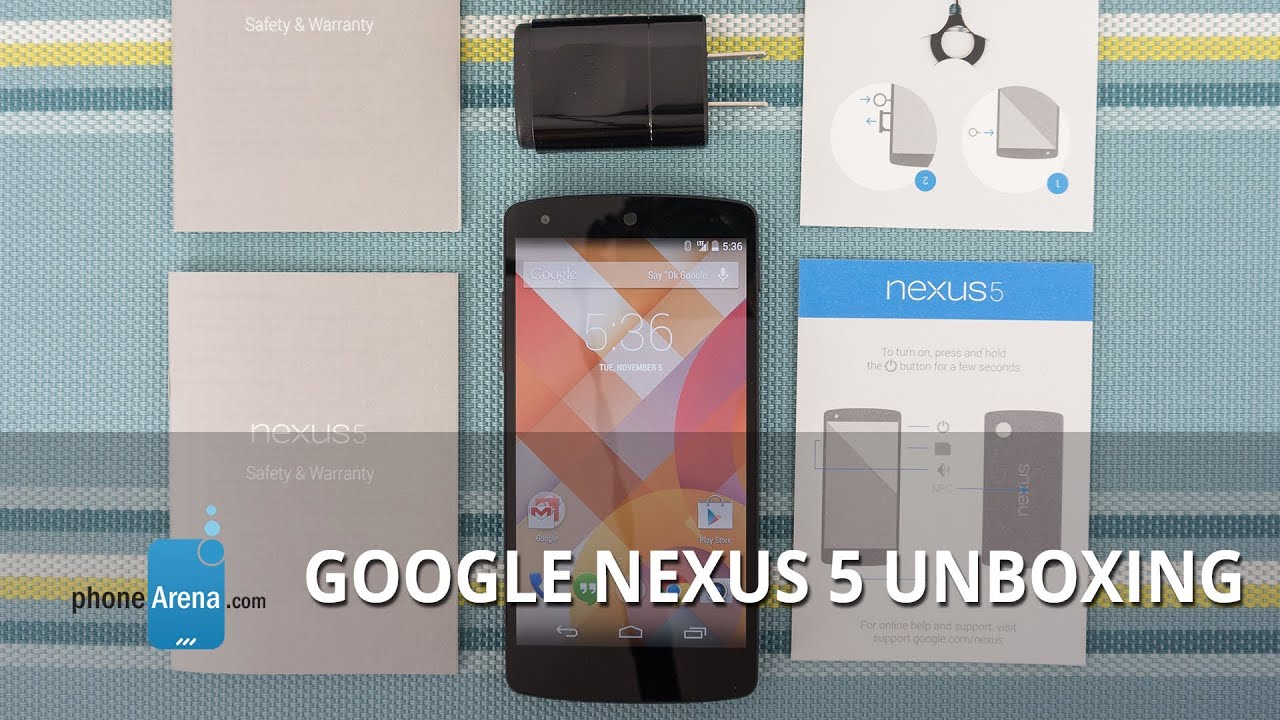 Design
Yet again, LG has been commissioned to design and manufacture this year's Nexus smartphone. Whereas its predecessor in the Nexus 4 flaunted a subtle premium construction, thanks to its glass rear casing, the Nexus 5 is more subdued with its overall design. Out of all the Nexus smartphones to come out, we'll say that the Nexus 5 has the least presence with its design – so it's more cookie cutter than anything else, as opposed to bearing a distinctive or more daring design to stand out. The more we look at it, we can't help but draw comparisons to the recently outed Google Nexus 7, as the two share many commonalities. Heck, it just seems as though the Nexus 5 is a smaller version of the Nexus 7.The Nexus 5 is constructed entirely out of polycarbonate plastic, which has a soft touch matte finish to it. Naturally, it helps in giving it a lightweight (130 grams / 4.59 oz) feel in the hand, but we wouldn't say that its construction is as solid when compared to the polycarbonate plastics used by Nokia's line of Lumia smartphones. Holding it, we'll admit that it feels pretty good in the hand – without it feeling too obtrusive or massive. In fact, its overall size is almost identical to its predecessor, which says a lot knowing it's packing a larger screen. For the most part, the Nexus 5 is a clean and minimalist looking smartphone. Around the back, however, we find the "Nexus" name proudly etched into it, although, to tell you the truth, we would've preferred it to be smaller.
So yeah, the design is undoubtedly more modest this time around. Unlike its predecessors, the design of the Nexus 5 isn't particularly something we'd proclaim as being an impressive feat. Don't get us wrong, we know that there are certain limitations, especially when it's aiming for such a low cost. Regardless, we're at least comforted to know that it gets more love than most other similarly priced phones on the market.
All the usual suspect are found littered around the handset's trim, so they consist of the 3.5mm headset jack, power button, volume controller, micro SIM slot, noise cancelling microphone, standard mic, speaker grill, and microUSB port. With its set of physical buttons, the power and volume ones, they're distinctive to the touch and offer great responses when pressed – not to mention, they're positioned in locations that we're familiar finding them in. At first glance, it appears as though it's packing along two speakers, evident by the two sets of holed grills along the bottom edge, but one is actually for the speaker and the other for its mic.
Although it's hard to notice, there's actually an LED notification light below the display – dead smack in the middle, it pulsates different colors according to the type of notification. Indeed, it's something that we appreciate, plus, it's wonderful that it's a discrete way of knowing that something needs our attention. Meanwhile, above the display, we spot its peculiar shaped earpiece, light & proximity sensors, and a front-facing 1.3-megapixel camera.
Reminding us about its close ties to the Nexus 7, there's a huge border surrounding the 8-megapixel auto-focus camera of the Nexus 5, which feature an LED flash, 1080p video recording, optical image stabilization, backside illuminated sensor, and an f2.4 aperture lens. With a healthy set of gear in tow, it'll be interesting to see how the Nexus 5 can rival some of the greats in the space.
A common practice nowadays, it's yet again a closed design with the Nexus 5, which means that there's no access to its battery, or features expandable storage. Nevertheless, it's available in both 16GB and 32GB configurations.
Display
With this year's model, its display increases 0.3-inches over its predecessor, blessing it with an admirable sized 5-inch display. Now, the beauty in it lies in how the bezels on the left and right sides of the display are minimized, similar to the LG G2's display, so that the handset feels snug in the hand – as opposed to being grossly out of proportion. In addition, the Nexus 5's display comes with an advanced in-cell touch technology, which means that the touch panel is closer to the surface – giving it a "floating" appearance.
Staring at the 5-inch 1080x1920 IPS LCD display of the Nexus 5, it's a very familiar thing we've seen countless times on other flagships. Indeed, there are several pleasant qualities about it, like how it's able to produce sharp details with its 445 ppi pixel density and offers better-than-average outdoor visibility, but as a whole, it's nothing particularly fresh in the space. Colors are punchy enough to catch our attention when it's viewed straight on – though, it's undoubtedly on the yellowish side.
By now, 1080p displays have become commonplace, especially for flagship smartphones. In the back of our minds, though, we can't help but feel relieved to find one here on the Nexus 5 – even more when we think about its low price point yet again.
Display measurements and quality
Google Nexus 5 360-Degrees View
Recommended Stories