Touchless Sesame smartphone can be operated with words and head shakes only
6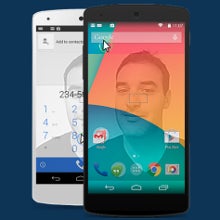 Samsung already demonstrated how you can
control one of its tablets with the power of your thoughts only
, but the experiment only consisted of shaking an icon on the homescreen. Now, researchers have found a way to let you control a smartphone with head movements only - granted, a far cry from mind control, but for those who are incapacitated, this could be the only way to interact with their handset.
The smartphone in question is called Sesame, and is actually a
Google Nexus 5
handset, loaded with software for recognizing head gestures via the front-facing camera, as well as voice commands. The Sesame concept is created by two Israeli guys - one who has previous experience making a gesture-controlled mobile game, and the other an army veteran who has been quadriplegic for almost a decade now.
By saying "Open Sesame," he can now unlock the phone, and do almost everything that can be done with a smart handset, including sending text messages, playing Candy Crush, and the like, and the project is actually an Indiegogo campaign, so anyone who pledges $350 now will get in line for a March delivery.