TouchWiz on the Samsung Galaxy S7 and S7 edge: here's a quick look
35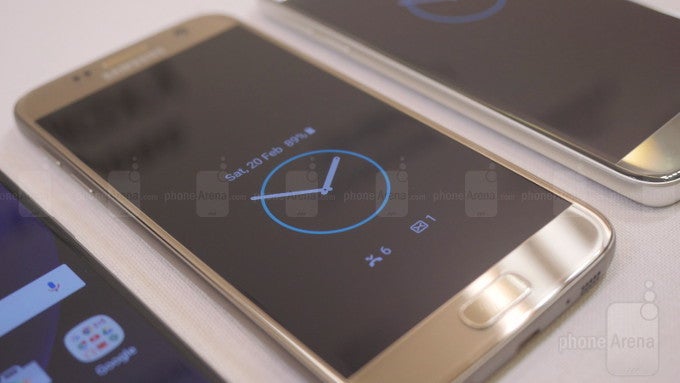 Samsung has just announced its brand-new flagship duo – the
Galaxy S7
and
Galaxy S7 edge
. As expected, the two smartphones rock Samsung's newest version of the TouchWiz UI, built on top of Android 6 Marshmallow.
So far, we've only seen a Marshmallow-based TouchWiz on leaks from
various beta builds
. Some days ago, the new UI started hitting
Galaxy S6
/
S6 edge
/
Note 5
phones in locations around the world, but it seems the roll-out is taking its sweet time before it reaches most eligible smartphones, ours included.
So, having had a limited amount of time with to take a look at the new
Galaxy S7
and
Galaxy S7 edge
, we made sure to take note of what TouchWiz looks like now. Mostly, the interface retains the same look we're familiar with from the 2015 build. Still feature rich, but noticeably less bulky than pre-Galaxy S6 editions, and certainly more streamlined and arranged. The most notable new feature, which the new TouchWiz brings is the always-on display. You will be happy to know that it will also be available for the older handsets, eligible for an Android 6 Marshmallow upgrade, since it's a software utility, which makes use of the AMOLED screen — not a function which requires the phone's display to have specific hardware built in, like LG's
G5
.
The other notable interface change is the expansion of the
edge
UX on the Galaxy S7 edge (will also arrive to Galaxy S6 edge via the update). Basically – the Edge Panels are back!... well – in a sense. The Apps edge has been expanded with an additional column for shortcuts; there is a whole new "Tasks edge", which allows you to program in macro commands – for example "send text to contact x", or "open camera in selfie mode" et cetera; pulling in from the edge towards the center of the screen will now give us 550
pixel
-wide area, which can be filled with panels such as tools (compass, flashlight, ruler), news aggregators, and other upcoming panels. The latter ones are made available to 3rd party developers, so welcome back Edge Panels, we missed thee!
That's pretty much what's new and noteworthy in the new UI. Owners of Galaxy smartphones from 2015 may not be very excited for the upcoming update, but users of the 2014 devices —
Galaxy S5
,
Note 4
, and
Note Edge
— will certainly notice a bigger change once the Marshmallow update hits their handsets!