Tim Cook, Jeff Bezos and other tech execs to attend Trump's tech summit this week
94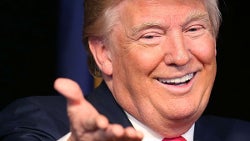 High profile tech leaders are coming together to attend a tech summit being held this Wednesday by President-elect Donald Trump. Apple CEO Tim Cook, Amazon CEO Jeff Bezos and Alphabet CEO Larry Page will all be attending, as will a number of other executives at major tech companies. The list includes Microsoft CEO Satya Nadella; Cisco CEO Chuck Robbins; IBM CEO Ginni Rometty; Intel CEO Brian Krzanich; Facebook COO Sheryl Sandberg and Oracle CEO Safra Catz.
Some of these executives have
already faced the wrath of Trump
during the 2016 presidential campaign. Apple CEO Tim Cook, for one, was lambasted by the real estate developer for not unlocking an iPhone owned by a deceased terrorist and for building products overseas. Apple has reportedly talked with the companies that manufacture its products
about moving some production to the U.S.
Considering that the President-elect has had a negative attitude toward technology executives and tech companies, one report said that getting the tech leaders to attend the summit was a difficult endeavor that was left to hedge fund manager Peter Thiel. The investor is a Trump supporter and currently sits on the board of Facebook.
We'd love to be a fly on the wall to hear how this meeting plays out. There is considerable animosity against Trump in the industry, and Amazon's Bezos happens to own the
Washington Post
which has been heavily against the incoming president. Still, the President-elect does have some fans in this group. Oracle's CEO Safra Catz appears to be among them.
"I plan to tell the President-elect that we are with him and will help in any way we can. If he can reform the tax code, reduce regulation and negotiate better trade deals, the U.S. technology industry will be stronger and more competitive than ever."-Safra Catz, CEO, Oracle
The meeting will take place at Trump Tower in New York City.
source:
Recode