Throwback Monday: Which manufacturer had the best-looking flagship in 2011? (poll results)
32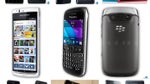 For those of you who didn't know, PhoneArena has been around for over a decade now. That's a lot of history, so naturally, we do get sentimental every once in a while. We're sure the vets among our readers do, too. And so, with 2015 about to run its course, we thought we'd go for a throwback kind of poll and take you on a trip back mobile history — all the way back to the now distant 2011.
With a comfortable lead on the rest, Sony's — or back then, Sony Ericsson's —
Xperia arc S
grabbed a little over 26% of the votes, followed by the
Nokia Lumia 800
with a share of about 19%. Third spot goes to Apple's
iPhone 4S
, which is actually a favorite with the team here at PhoneArena.com, closely followed by the aforementioned Xperia arc S. Next up, we've got the
Samsung Galaxy S II
(~12%), the
HTC Sensation
(~9%), and the
Motorola DROID RAZR
(~9%). LG's
Optimus 2X
was last on the list, with a sub 1% share of the votes.
Proof: