Throwback Monday: Which manufacturer had the best-looking flagship in 2011?
49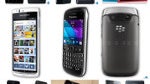 With 2015 nearing its end, you've probably noticed that we've already started looking back on the year and thinking on what it meant for the industry as a whole. Retrospection is a funny thing, however — drop your guard for a moment, and you might just find yourself recounting years long past. For whatever reason, we found ourselves digging through the 2011 archives and reminiscing on the greats of the day — say the iPhone 4S, the GALAXY Nexus, or even the Sony Ericsson Xperia arc S.
Beyond the obvious upgrades in hardware, it's hard not to notice that design has changed quite a bit since. Sure, fundamentally, the form factor is mostly the same, but there's still a world of difference from the long-expired designs of 2011 to the ones today. Don't get us wrong, we still appreciate the fine work phone makers delivered that year, and in fact can't settle on which one got it down cold best. That's where you come in.
Take a glance through the slideshow below with our nine contestants today — all 2011 flagships from major brands — and vote for the one you think looks best in the poll immediately below. Come back tomorrow for the results!