Unlocked 64 GB Sony Xperia XZ2 Compact on sale for $470 at B&H, $500 at Best Buy, Amazon
6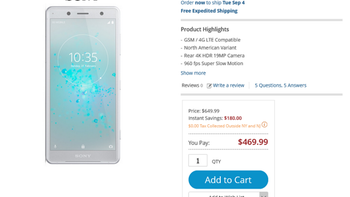 If you're looking for a sale on the 64GB
Sony Xperia XZ2 Compact
, the phone gods are with you. There are three separate retailers offering deals on the handset, with B&H the lowest at $469.99. This is an instant $180 or 38% discount off of the retailer's usual price. The model on sale is an unlocked version of the phone for North America and will work on Verizon, AT&T and T-Mobile. B&H has three color options in stock, While Silver, Coral Pink, and Moss Green.
Over at big box retailer Best Buy, the same phone is priced at $499.99, which is $150 or 23% off of Best Buy's usual price. Unlike B&H, which is sold out of the
Xperia XZ2 Compact
in Black, all four color options are offered. And that is also true for Amazon, which has also priced the device at $499.99. Like Best Buy, the sale price represents a $150 or 23% discount from Amazon's usual pricing of the smartphone.
The Sony
Xperia XZ2
Compact is equipped with a 5-inch LCD display sporting a 1080 x 2160 resolution (FHD+). That means it does offer the modern look of a 2:1 aspect ratio. Under the hood, this phone is no slouch thanks to the Snapdragon 845 Mobile Platform found under the hood. 4GB of RAM is inside, and the fingerprint scanner is enabled for U.S. use. The camera combo weighs in, back to front, at 19MP (4K video, 960fps Super Slow
Motion
) and 8MP respectively. A 2870mAh battery keeps the lights on, and the unit carries dust and water protection with an IP68 certification rating. Android 8.0 Oreo is pre-installed.
If you're interested in the Sony Xperia
XZ2
Compact, you have three sales to choose from.All three offer free shipping, for what it's worth. Click on the appropriate sourcelink below.