The state of the smartphone market: Android dominates, Apple grows slightly, Windows shrinks
72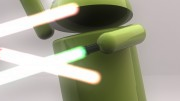 Gartner has unveiled its latest research about the state of the phone market in the second quarter of 2015, and there are two big conclusions: Google's Android and Apple's iOS together now control a whopping 96.8% of the smartphone market, and the second one is that all the other contenders, including Windows Phone, have their positions erode further.
Apple's iOS is actually gaining new ground, growing to get a 14.4% of the market with 48.1 million devices sold in the quarter, up from a market share of 12.2% in the second quarter of 2014.
Google's Android, on the other hand, remains the dominant leader, but while it has grown the absolute number in units shipped to 271 million (up from 243.48 million in Q2 2014), its share has actually dwindled to 82.2%, down from 83.8%.
Those small shifts among our friendly duopoly is pushing all others out of relevancy: the Windows Phone ecosystem is the third largest, but even it has a very marginal share of just 2.5% in the second quarter of 2015, down from 2.8% in Q2 2014. BlackBerry's share also continues shrinking.
With an expected slight slowdown of iOS sales in China due to the country's worsening economic climate, though, some analysts have predicted that Apple's iPhone growth might slow down on a global scale next quarter. W

Recommended Stories