The Xperia Z3 and Z3 Compact receive root and custom recovery support
7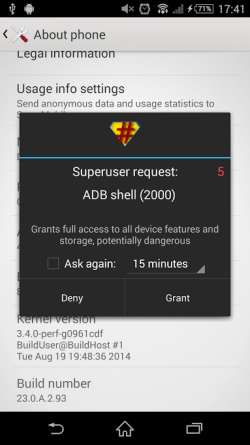 Courtesy of recognized developer
DooMLoRD
, you can now root your new
Xperia Z3
and
Xperia Z3 Compact
, and also slap on a custom recovery for all your flashing needs.
To do so, you'll need a model of either with an unlocked bootloader (stock firmware or ROMs based on it), and you'll have to flash a custom kernel. Once done, you'll have access to a ClockWorkMod custom recovery (v6.0.4.7). From that point on, if you'd like to root your Z3 or Z3 Compact, you'll have to download SuperSU and save it onto an SD card and flash it through CWM. The developer recommends you download
BusyBox
right after rooting, and install it in
/system/xbin.
Right now, the list of known issues is very short: you'll only have to settle for not being able to use adb through the recovery. According to DooMLoRD, this can be solved later. For now though, you can enjoy your new-found freedom (granted you have one of the two new Xperias).

For the full installation instructions, refer to the source link below.