The Samsung Conquer 4G for Sprint is now official, keeping wallets fat in the U.S.
8
Sprint and Samsung have officially introduced the Samsung Conquer 4G, a
mid-range phone
with specs that would have been considered top of the line not too long ago. As we recently
reported
, the Android device is expected to be launched on July 24th with a 1GHz single-core processor under the hood. You know, the kind of chip set that was powering some
top of the line models
only a few months ago.
Having Android 2.3 under the hood is not your typical mid-range manufacturing move, but then again, neither is having the phone equipped with a 1.3MP
front-facing camera
and 4G connectivity via
WiMAX
. Some of the specs, though, are genuinely low to mid-level such as the 3.2MP rear camera and the 3.5 inch screen with HVGA resolution.
With Sprint taking care of the high-end with the recent launch of the HTC EVO 3D, the carrier wanted to go after that forgotten
middle of the market
-too rich to consider cheap handsets with low end specs, but too poor to chase the latest dual-core packin', Super AMOLED (or LCD, take you pick) high-res display equipped beast. The Samsung Conquer 4G sounds like this is the
model for them
, although pricing has yet to be revealed.
source:
AndroidandMe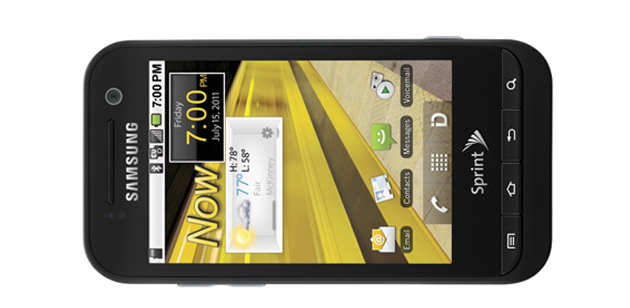 The Samsung Conquer 4G for Sprint is the perfect smartphone for mid-range buyers