The LG Fortune is available now from Cricket priced at $89.99 with a smartphone plan
4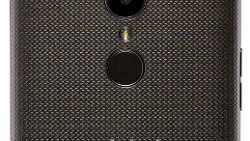 You don't need to have a fortune to buy the LG Fortune, an entry-level handset available right now from Cricket. The pre-paid carrier is offering the phone for just $89.99 with the activation of a smartphone plan. The LG Fortune features a 5-inch display carrying a 480 x 854 FWVGA resolution. A quad-core CPU is under the hood, running at a clock speed of 1.1GHz. 16GB of internal storage is included, along with a microSD slot with a 32GB capacity.
Both the back and front-facing cameras weigh in at 5MP, and a 2500mAh battery is in charge (no pun intended) of keeping the device powered up. Android 6.0 is pre-installed. Some of the features found on the LG Fortune include Knock Code. This allows you to create a pattern that you tap on the display to unlock the unit. Quick Memo+ allows you to use your finger to write notes, drawings, doodles and even add captions to your photos. These can then be sent to your family and friends. The LG Fortune carries a rear facing power button and a Battery Saver option that extends your usage when the battery is about to roll over and die.
The phone supports Cricket's 3GB, 8GB and 12GB high-speed data plans. Go over the data cap and you'll be throttled to 128kbps. Cricket is also offering a plan with unlimited high-speed data for $55 a month. That includes a $5 monthly discount awarded to those who sign up for Auto Pay. The unlimited plan streams video at a DVD quality resolution of 480p. Consume more than 22GB of data in a single month, and your data speed will be slowed down during periods of heavy traffic on the network. That will remain in force until the start of the next billing cycle.
If you're looking for a smartphone and a plan that won't bust your budget, you should take a serious look at the LG Fortune and Cricket Wireless. If interested, visit a nearby Cricket store or click on the sourcelink.
source:
Cricket