The Barnes & Noble Nook Tablet or the Amazon Kindle Fire – which one would you pick? (poll results)
9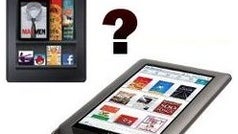 The
Amazon Kindle Fire
and the
Barnes & Noble Nook Tablet
– two affordable Android tablets that will be battling head to head this holiday season trying to land under your Christmas tree. But between the two of them, which one would you pick? That is the question that we asked you several days ago, and the results from our poll are already in.
In a classic photo-finish manner, the
Amazon Kindle Fire
holds the lead getting the votes of 36.42% or 181 of our readers. The
Barnes & Noble Nook Tablet
comes second, but only by a hair as it is being voted for by 35.81% or 178 PhoneArena readers. Only 13.28% of the ones who participated in the poll find an Android tablet hovering near the $300 mark worth the extra cash while 14.49% are not interested in getting a tablet at all.
Even though we didn't get a definite winner in our poll, the results serve as an indication that the demand for cheap tablets, or at least ones marketed by companies consumers are familiar with, is present indeed. Both the Kindle Fire and the Nook Tablet are nearing their release, and perhaps only time will tell which one of them will be predominant.