The Apple iPhone was the top selling tech product of 2017
99+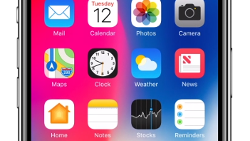 A research firm called GBH Insights said today that the Apple iPhone was the top selling tech product of 2017. In fact, with 233 million units expected to be rung up for the entire year, the device sold more than the numbers 2 through 5 products added together. In second place you'll find the
Samsung Galaxy S8
and the
Samsung Galaxy Note 8
with 33 million phones sold. The low-end model of Amazon's smart speaker, the Echo Dot, was third with 24 million units sold for the year. Apple returned with the fourth most purchased tech product of 2017, the Apple Watch; 20 million timepieces were bought this year. And rounding out the top five was the Nintendo Switch hybrid console. The latter rung up 15 million units in 2017.
The Apple iPhone also took home first place as the best selling tech device of 2016 with 211 million phones sold. GBH Insights analyst Daniel Ives says that the iPhone will successfully defend its crown again next year thanks to a huge number of current iPhone users that will be ready to upgrade in 2018. Also chipping in will be a new version of the 4-inch
Apple iPhone SE
. Additionally, analyst Patrick Moorhead of Moorhead Insights expects Apple to cut prices on non-iPhone X models. "Anything that doesn't have edge-to-edge display will go down in price," he said.
Amazon and Google went at it with their low-end smart speakers. The Amazon Echo Dot and the Google Home Mini were both discounted to $29.99 for the holiday shopping season. We recently told you that
the Alexa app hit number one on the Apple App Store
, indicating that the Echo smart speaker did very well during the holidays.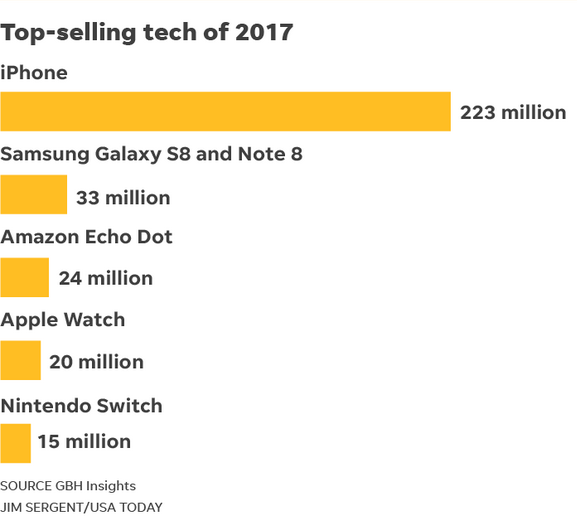 The iPhone was the top selling tech product of 2017
source:
USAToday