The Apple Watch is not the company's first timepiece
26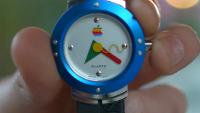 While the Apple Watch is the company's first smartwatch, it is not Apple's first watch. Back in 1995 Apple gave away a decidedly un-smartwatch to Mac users trying to get them to update their OS to version 7.5. As you might imagine, the watch is now a valuable collector's item. In fact, a former Apple distributor held on to quite a few of the watches for 20 years and a number of them are being auctioned off.
There are three grades of the watch available to bid on. Grade A is "Flawless," Grade B is "Almost Perfect" and Grade C is "Imperfect" with minor blemishes. The watches are all new and bidding has started. The auction will end at 10:30pm EST on January 31st. Click on the sourcelink to bid.
Not too many people remember the original Apple Watch. Those who upgraded their Mac to version 7.5 had a choice between the free timepiece and the Conflict Catcher utility software. If you do win one of the watches in the auction, you are picking up a piece of history. We have several images and a video that you can check out by clicking on the video slideshow below.
source:
OriginalWatchStore
via
LaughingSquid
,
Gizmodo