Texas Instruments announces new brighter, smaller, power-savvier pico projector technology for smartphones and tablets
2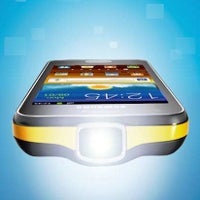 Having a pico
projector built-in a tablet
or a smartphone like the
Samsung Galaxy Beam
opens a world of possibilities and for the first time this past year we got to see mass market devices with projectors start to arrive, but with this new breakthrough in pico projector design we wouldn't be surprised to see a projector become a more common feature in our devices and not the rarity it is today.
Texas Instruments has just unveiled its brand new DLP Pico chip architecture that will allow
brighter, tinier and more power efficient projectors in devices
.
The new architecture is called Tilt & Roll
Pixel
, or TRP, and comes with promises for 30% brighter output, 50% less power consumption and 2 times the resolution at a same size chip.
If we look at what we have in smartphones today, the Galaxy Beam, the only mass market device with a built-in projector, features a 15-lumen projector that lasts around three hours. Chinese white box makers have also started releasing tablets with similar projectors.
TI is saying devices like smartphones, tablets, cameras/camcorders, notebooks, eyewear, and standalone devices could all benefit from this new technology, and we can only keep our fingers cross to see more devices with projectors arrive sooner rather than later.
source:
Gizmodo

Texas Instruments Announces All-New DLP® Pico™ Chip Architecture

An expanding family of DLP Pico display solutions gives developers the flexibility to create brighter, smaller, lower power products

LAS VEGAS, Jan. 7, 2013 /PRNewswire/ -- Today at the International Consumer Electronics Show (CES), Texas Instruments (TI) (NASDAQ: TXN) DLP® Products (suite N115) has announced a new groundbreaking, smaller pixel architecture, called Tilt & Roll Pixel (TRP), for its market-leading DLP Pico™ technology. This advancement gives developers the ability to bring unique, robust big picture display capabilities to more devices and product categories than ever before.
(Logo: http://photos.prnewswire.com/prnh/20120123/MM39571LOGO-b)
Some of the key advantages for products built on the new TRP architecture will include:
As much as 30% higher brightness, with increased efficiency
Up to 50% less power consumption
2x the resolution in the same sized chip
As a result of these advancements, products integrating this capability - such as smartphones, tablets, cameras/camcorders, notebooks, eyewear, and standalone devices - will see significant performance benefits.
"The power of digital content is that it's available anytime, anywhere," said Frank Moizio , Business Unit Manager DLP Pico. "DLP Pico technology creates the largest images from the smallest devices, thus enabling users to unleash the power of their digital content, and share it in collaborative, real-world settings. Our new pixel architecture enables manufacturers to extend the reach of pico technology to new, smaller devices and new applications, with brighter images and higher efficiency."
Pacific Media Associates (PMA) has predicted a worldwide pico projector market forecast of 12 million units by 2016, pointing to the category's growing popularity. TI DLP is working with manufacturers now on integrating the new TRP architecture into products.