Temple Run 2 is the fastest growing mobile game of all time with 50 million downloads in 13 days
17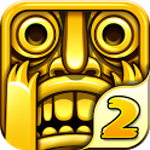 With 50 million downloads in just 13 days,
Temple Run 2
has become the fastest growing mobile game of all time.
The previous record was held by Angry Birds Space
, which had been downloaded 50 million times in 35 days. Temple Run 2 launched on January 17th as an iOS exclusive and quickly rose to #1 in Free Apps with 6 million downloads in 24 hours.
Once released in the Google Play Store
and Amazon Marketplace, the game hit the top spot in both market places.
"Temple Run has evolved into something so much bigger than us. The game has performed beyond our wildest dreams, and we are thrilled that gamers and fans have embraced Temple Run 2 in such a short period of time."-Keith Shepherd, co-founder, Imangi Studios
The game follows your character, who has stolen an idol from the Temple, and is being chased by Evil Demon Monkeys. The original Temple Run was downloaded
170 million times
and was originally 99 cents before being repriced as a free game. Not that the husband and wife team behind the mobile game is starving. In-app purchases are helping Imangi Studios, the company they formed, rake in the cash.
In addition, the game has spawned Temple Run branded merchandise from clothing to board games and even a successful spin off game that was created along with Pixar. In June 2012, Imangi and Disney Pixar launched
Temple Run: Brave
, a mobile game that merged the world of Pixar's movie Brave with the world of Temple Run. That game soared to the top spot in the App Store soon after its release.
source: ImangiStudios via
BGR