Target displays show that the LG Thrill 4G is going to be selling for $79.99 on-contract
5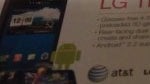 It's not surprising that our interest perked up when
AT&T teased us
about selling the 3D feature filled
LG Thrill 4G
for the mind-boggling on-contract price of $99.99 – albeit, rumors of delays might ruin the fun it's expected to offer.
Interestingly, one of our tipsters managed to send us a couple of
Target
displays that show the handset being graced with an even better
$79.99
on-contract pricing. However, the fine details at the bottom indicate the price is only valid between
August 21st and 27th
.
Previously, we reported that
RadioShack was going to delay the handset's launch until August 21st
, which lines up with what we see here with Target's plans, but more recently, another rumor mentions it being
moved even further back to September 4th
. So it's unclear whether or not this Target display was created very recently.
Regardless of that, it's nice to know that the popular retailer is going to give potential owners a $20 discount over what AT&T is planning to offer – but it's anyone's guess if it'll actually come galloping into stores on August 21st.
Thanks Luke!