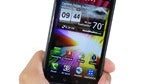 Introduction:
The first announced 3D phone was the European
LG Optimus 3D
, but here in the US, it's actually the
HTC EVO 3D
that's spreading the word regarding the novel feature into the minds of consumers, as it hit Sprint's shelves a couple of months ago. Very soon though, AT&T's variant of the Optimus 3D - the
LG Thrill 4G
- will follow the same path, but unlike its rival, its allure is found elsewhere outside its 3D capabilities. Instead, it's aiming to win over the hearts and minds of people by simply tantalizing them with its superior on-contract price of $99.99. Regardless of that, will it be enough to lure people in and wholeheartedly accept the novel 3D features?
LG Thrill 4G
microUSB Cable
Wall Charger
8GB microSD card
Quickstart Guide
microHDMI Cable
Design:
Not surprisingly, the LG Thrill 4G is an almost exact facsimile to its European counterpart with the exception of its obvious AT&T branding in the rear. Nowadays, its industrial design is undeniably commonplace at this point, but despite that, it's still one solidly constructed handset. By today's standards though, its overall size makes it feel unwieldy at times and doesn't quite come off as compelling to some of the razor thin designs incorporated by the heavy hitters in the big leagues.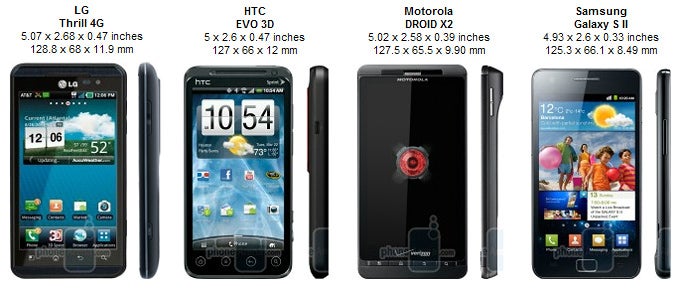 You can compare the LG Thrill 4G with many other phones using our
Size Visualization Tool
.
Easily considered its attention grabber, the Thrill 4G's
3D display
appears to be slightly better than the one on the HTC EVO 3D – mainly due to its better viewing angles. With most things 3D-related, our eyes need a tiny bit of time to adjust and recognize the 3D effect, but in the end, it works well. However, we'd recommend limiting the amount of time gazing at it since our eyes tend to fatigue after prolonged usage. So yeah, the whole 3D things works rather well, and you definitely get that sense of depth with things.
Without a doubt, the
4.3" LCD display
is undoubtedly plentiful, however, after checking out some of the competition sporting qHD resolution, the WVGA (480 x 800) one in use with the Thrill 4G doesn't come off as astounding on paper anymore. It still produces a decent amount of detail and poppy looking colors. Also, its great
viewing angles
allow it to maintain its appearance, though, its brightness output is still lacking and ultimately requires us to shield it from the sun.
buttons and ports
that we normally find. Still, the notable things that stand out from the rest are the
two camera lenses in the rear
, which allow it to shoot 3D photos and videos, and the microHDMI port that easily connects the handset to a big screen television. Plus, we have to give kudos to it because the handset is packaged along with an HDMI cable – something that you rarely see happen.
LG Thrill 4G 360-degrees View: