TapTap is a smart wristband for romantics: creates an instant invisible connection between lovers
16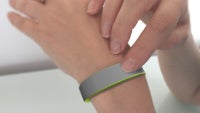 Here is an interesting concept - what if you could touch your special someone even when he or she is miles away and what if that special person could feel your touch instantly? That is the simple idea behind the TapTap wristband, a new Kickstarter initiative to build an invisible connection between two people.
TapTap is more or less a single-purpose device - it will transfer touch between two people. Inside however it will also track your activities and could be used as a game controler.
We love the idea of an invisible and instant connection between two people. There's definitely a lot of romance in that, and that's rarely seems to be the motivation to create a tech gadget. This one here is driven by that. Is it truly a good idea, though? We can imagine a smartwatch of the future having this sort of instant touch vibration transmission as a simple app without the need of a separate gadget. Something you could probably do with the Pebble if you are a developer.
The TapTap team is already done with the design, PCB, prototypes, firmware and iOS and Android applications, but it needs your help to pass certification and become a reality. Good news is you can still jump on that early backers train and get a pair of wristbands for jut $90 (the $60 early bird promo is already sold out).
Take a look at it and head onto Kickstarter if you like what you see.