"Tap to Alexa" turns the Amazon Echo Show smart speaker into a stationary tablet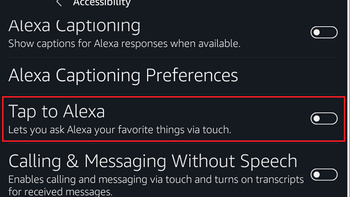 A new feature made available to the Amazon Echo Show can turn the smart speaker into a tablet of sorts. "Tap to Alexa" allows users to direct virtual personal assistant Alexa by tapping on the device's 7-inch touchscreen instead of barking out orders vocally. To activate "Tap to Alexa," you will need to go into settings and activate it. Turning on the feature will allow Echo Show owners to add shortcuts to the home screen to quickly turn on/off smart appliances using text input. Other shortcuts will deliver up-to-date news, weather and more. A new keyboard icon on the screen will bring up a virtual QWERTY for users to type on.

For now, this is a feature that you will only find on the Amazon's Echo Show smart speaker. Amazon says that it is working to add "Tap to Alexa" on the smaller 2.5-inch display found on the spherical Echo Spot. Both models do offer "Alexa Captioning" in the U.S. The latter, when enabled, allow the Echo Show and the Echo Spot to show Alexa responses in a text format.
Amazon has started pushing out "Alexa Captioning" in new countries including the U.K., Germany, Japan, India, France, Canada, Australia and New Zealand.