Talk about disgrace: Lenovo ships more smartphones than Nokia in Q3
44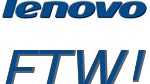 If a recent report by industry analyst Canalys is to be believed (and why shouldn't we believe it?), things don't look very well for Nokia. Actually, it's worse than we thought. According to the report, Nokia has continued its way to the bottom of the smartphone maker chart in Q3, and has shipped less units than many companies, including Lenovo, which is almost nonexistent in non-Asian markets.
Canalys notes that the top spot is taken by Samsung (surprise!) with its gigantic 32% market share, followed by Apple with 15.5%. Interestingly, Sony has climbed all the way to the third place thanks to decent sales of 8.8 million units, equaling a market share of 5.1%. HTC is fourth (4.8%) and RIM is fifth (4.2%), but where exactly is Nokia in this chart? Well, on our way down towards the bottom, we have to pass by companies like LG, ZTE, Huawei and Lenovo, in order to reach poor Nokia, which, if you remember, has been steadily falling straight from the top for quite some time now, with absolutely no signs of change. Of course, everyone is excited to see what will happen with Nokia's WP8-powered
Lumia 920
and
820
smartphones during the Holiday season, but we somehow can't see them eclipse the horde of Android devices and the
iPhone 5
.
via:
TheRegister