Take a look at a Samsung Galaxy Tab dissection
1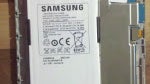 A few days ago we learned that the
Samsung Galaxy Tab's parts are worth $205
and now there is a video data of the device's dissection on the internet. It reveals that the Tab posses quite a huge battery. That's hardly surprising when you look at the specs of the device – it reveals a 4000 mAh battery (just for comparison, the high-end smartphones usually have a 1200 mAh battery or similar) – but still it is worth noting that the battery occupies such a large chunk of the Galaxy Tab's real estate.
That partly explains its weight of 13.40 oz (or 380 g), although looking at its biggest competitor, that's only half of the weight of the 9.7-inch Apple's iPad. The
Samsung Galaxy Tab
will be available to all four major carriers, along with US Cellular and to see what it looks inside, check out the video below.
source:
Engadget
Recommended Stories