Tablet shipments may hit 180 million units in 2013
5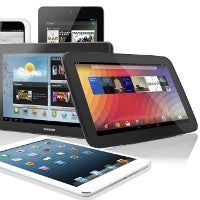 Tablet sales are not only going to top notebook sales in 2013 according to analysts' consensus - they will also outperform their 2012 sales hugely,
growing from 130 million shipments to between 170 million and 180 million shipments in 2013
.
And while the
iPad
will still dominate the larger tablet segment, Android will have a commanding share of the 7-inch tablet market despite the growing popularity of the
iPad mini
.
For some context, in 2012 manufacturers shipped a whopping 73.4 million 9-inch and larger tablets, accounting for a year-on-year growth of 35% and a total share of 59% of the overall tablet market.
And while in 2012 larger tablets prevailed, the tide will turn in 2013. Seven and eight-inch tablets are expected to become much more popular due to their huge price advantages and end the year with a 60% share of the whole market.
Not all companies have announced their projections for next year, but Samsung for instance expects to double the number of shipped tablets next year.
source:
DigiTimes