T-Mobile will soon begin to accept pre-orders for the G2
0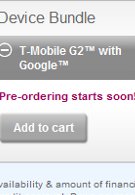 Best Buy has been accepting pre-orders
for the soon-to-be available T-Mobile G2, but it looks as though that T-Mobile is teasing customers with the notion that pre-orders for the handset will be made available shortly.
Various customers have been reporting that they are able to check out the handset though their T-Mobile account online – with pricing and the actual release date still in question. Nonetheless, customers will soon have the opportunity of pre-ordering the handset directly through the carrier as the words "pre-ordering starts soon" are plastered in direct view of the handset. Moreover, it's still rumored to launch on
October 16th as we've reported previously
.
T-Mobile G2 Specifications
source:
TmoNews