T-Mobile sells 17,250 myTouch 3G Fender Edition units since launch
This article contains unofficial information.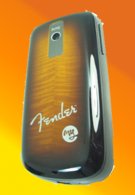 It's no ordinary music centric update to an already existing model, but the T-Mobile myTouch 3G Fender Limited Edition as been gobbled up by consumers apparently. Aside from the noticeable design change, T-Mobile was able to sell 17,250 units since it was made available three weeks ago.
Eric Clapton
may have some kind of indirect impact on those figures, but T-Mobile is planning on ordering a second round of units in order to meet up with the demand – meaning that they are going to have them in-stock for some time around April. Not every T-Mobile store may get shipments of the Android smartphone – in fact, they're going to play it safe and targeting specific stores that have individuals wait for the handset. Nonetheless, it's still categorized as a "limited edition" handset – so stock levels are not guaranteed. If you happen to miss out on the second round of shipments, you may have to look at some other alternatives in obtaining a handset for yourself.
T-Mobile myTouch 3G Fender Edition
|
Hands-on
source:
TmoNews