T-Mobile readying a huge "New Year, New Phone" sale this weekend (it's now official!)
1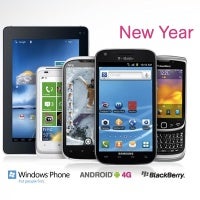 T-Mobile might be the only major US carrier without the iPhone, but it's making sure it's the best place to get an Android handset. How? By slashing prices on nearly all of its Android fleet including big ticket phones like the Samsung Galaxy S 4G II, HTC Amaze, the T-Mobile myTouch 4G Slide and the HTC Sensation. The upcoming
"New Year, New Phone"
sale over this coming weekend
will slash their prices
down to $49.99
after a mail-in rebate, and for other lower-end models the cut will be down to zero.
Most of the handsets require a minimum of $49.99 unlimited Value plan with at least 2GB of data a month, but the Galaxy S 4G II and the HTC Amaze require 5 gigs of data. Here's a list of who qualifies and some details:
- Classic, Legacy, or existing Value Plan customers,
- There are no contract or handset tenure requirements,
- Standard migration fees apply for customers switching to Value,
- 2-year contract required,
- Must activate or upgrade to Unlimited Value Plan with qualifying data feature,
- Variable data requires: Smartphones (2GB) or 42Mbps Superphones (5GB),
- Qualifying Rate Plans: Unlimited Value Family Plan, Unlimited Value Single Lines and AAL (Must have unlimited minutes add on feature),
- Any webConnect Value rate plan of 2GB Or higher.
The cut is also applicable to tablets and MiFi devices. Check out the table below for the requirements. T-Mobile stores might be pretty busy starting Friday, January 6th, don't you think?
T-Mobile Rings in 2012 with the "New Year, New Phone Sale"
On Jan. 6–8, all T-Mobile smartphones and select mobile broadband devices are available for as little as $0–$49.99 net down
BELLEVUE, Wash. — Jan. 3, 2012 — Following last year's successful holiday promotions such as "Magenta Saturday" and the "4G Super Sale," T-Mobile USA, Inc. will help value seekers kick off the new year with the "New Year, New Phone Sale." For one weekend only, Friday, Jan. 6 through Sunday, Jan. 8, T-Mobile is giving customers the chance to purchase top devices, such as the HTC Amaze™ 4G, Samsung Galaxy S™ II or the T-Mobile® Springboard™tablet, for $49.99 or less net down payment — after a mail-in rebate card — when customers sign up for a new two-year agreement on any qualifying T-Mobile Unlimited Value™ plan.1
"Some people join a gym as a New Year's resolution while others vow to stay in better touch with friends and loved ones, and T-Mobile wants to help with that resolution," said John Cleland, Senior Vice President of Marketing, T-Mobile USA. "For consumers who didn't get the latest mobile phone for the holidays, T-Mobile is giving them a chance to welcome in the new year with the hottest new devices at an affordable price and help them stay better connected in 2012."
New customers will be eligible for this deal when they sign up for a two-year agreement on any qualifying Unlimited Value plan2. Existing customers also can take advantage of this great sale if they are eligible for an upgrade, meaning they have been on their current service contracts for 18 months or more.
The following is a sample list of some of the exceptional devices available through the "New Year, New Phone Sale":
The "New Year, New Phone Sale" will be available the weekend of Jan.6–8 at participating T-Mobile retail stores nationwide. For more information about T-Mobile's "New Year, New Phone Sale" and details about qualifying Unlimited Value plans, which include unlimited talk, text and data for a low price, visithttp://deals.t-mobile.com/new-phones?cm_mmc_o=lBgbzkFwpbzCjCzczywEwllCjC5ywllywkwzlwCjCwEpButBkbpzYwMwEfnivv.
1 Equipment installment plans: On approved credit and 0 percent APR. Down payment and unfinanced portion required at purchase. Remaining balance paid in 20 monthly installments. Total post-rebate price of each device equals down payment amount plus monthly payment amount times 20.
2 Devices must be supported with the following data requirements: voice phones: 200 MB data; most smartphones: 2 GB data; 42 Mbps devices (Amaze and Galaxy S II): 5 GB data.