T-Mobile, MetroPCS top full price carriers in wireless customer care again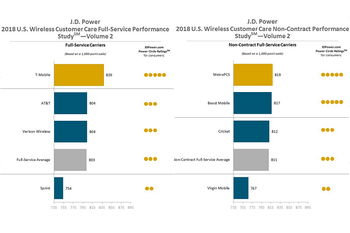 In the beginning of the year,
T-Mobile topped full price postpaid carriers in wireless customer care
, according to J.D. Power and Co. And the best score among full price pre-paid providers belonged to MetroPCS. The results from Volume 2 of the survey were released today, and both T-Mobile and MetroPCS again had the top scores for their respective categories. Of course, both providers are found under the T-Mobile corporate umbrella (which is magenta colored, no doubt).
Volume 2 results are based on the results of 14,745 subscribers who called their carriers' customer service department within the last three month. So what exactly is being evaluated here? Glad you asked. J.D. Power says that scores are based on what subscribers experienced after reaching out to their carriers via "phone customer service reps; in-store contact; online chat; email; social media post; carrier app question post; automated telephone systems; website search; social media search; user forum; video from carrier; and carrier app search."
Among the postpaid full service carriers, T-Mobile earned a score of 839 out of 1,000. AT&T and Verizon were in a photo-finish for second place as both garnered 804 points. With a tally of 754, Sprint was dead last. There was suspense and drama in the pre-paid category as MetroPCS beat out Boost Mobile 819 to 817. Cricket was third with a score of 812, while Virgin Mobile was on the bottom with 767 points.
"With cross-training, carriers have empowered customer service representatives to resolve problems across both billing and technical issues – when transfers and hold times go down, satisfaction goes up. Customers are then able to establish a relationship with their support, spend less time dealing with their particular issue and have a smoother, more pleasant experience. It is something to note when looking at how these wireless companies can ensure their customers remain loyal."-Ian Greenblatt, Technology, Media & Telecom Practice Lead at J.D. Power
Value pre-paid carriers were led by Consumer Cellular, which scored 882 points. A distant second was Straight Talk with 801 points, and TracFone was last with a score of 759.