T-Mobile, Sprint cancel post-earnings report conference calls; is merger imminent or delayed?
5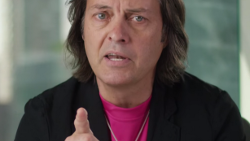 The four major U.S. carriers usually hold a conference call on the phone with analysts and financial reporters immediately following the release of their latest quarterly earnings report. This morning, when T-Mobile announced its Q3 numbers, it cancelled the conference call. Wells Fargo said that the nation's third largest carrier wanted to "let the 3Q results speak for themselves." But that might not be the real reason for the cancellation.
A little bit after T-Mobile cancelled its conference call, the wireless operator's rumored merger partner Sprint revealed that it will report its third quarter results tomorrow at 7am EDT. At the same time, the nation's fourth largest carrier said that it too will not hold a conference call following tomorrow's report.
There is speculation that both T-Mobile and Sprint were going to announce their merger during one of the conference calls, and the cancellations mean that there is a delay as both sides continue to negotiate. In this scenario, a deal is made public next month. However, one Wall Streeter says that the cancelled conference calls could either mean that the long-rumored merger announcement is imminent, or that the deal is dead for now.
"Inevitably, the speculation about why T-Mobile chose to do it this way – does this mean that a merger announcement is all the more imminent, or does it mean that talks have reached a temporary impasse (we're assuming it means the former)? – will dominate discussion today."-Craig Moffett, analyst, Moffett Nathanson Research
Perhaps a clue emerged today when
T-Mobile president and CEO John Legere released a video along with T-Mobile's earnings report
. The video talks about T-Mobile's 2013 acquisition of MetroPCS and said that T-Mobile "rewrote the book on telecom mergers." It is a book that might be adding a new chapter soon.
source:
KCStar