T-Mobile Sidekick 4G officially confirmed for April 20, to cost $99 on a two-year contract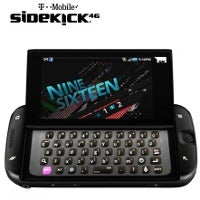 After the release date of the
T-Mobile 2GX
has been officially announced earlier today, there is more good news for T-Mo's subscribers as the carrier officially confirmed the
T-Mobile Sidekick 4G
is to arrive on April 20 for $99.99 with a standard two-year contract after a $50 mail-in-rebate.
The Sidekick 4G, which is the latest incarnation of the famed Sidekick phones, is manufactured by Samsung and offers some quite respectable specs, like the 1GHz Cortex A8 Hummingbird processor, a 3.5-inch capacitive TFT screen (the first ever Sidekick to feature a touchscreen) with a 480 x 800 resolution, two cameras - rear one with 3MP and a VGA front-facer - Froyo and 4G connectivity.
There is little doubt, however, that the selling point of this handset is its beautiful 5 row keyboard, which seems heaven sent for all these heavy users of social networks who love to send their messages on large, comfy-to-use physical QWERTY.
source:
T-Mobile (Twitter)
and
T-Mobile