The Revvl 2 & Revvl 2 Plus are T-Mobile's newest budget devices
4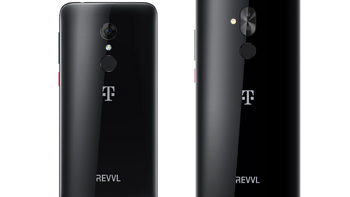 Carrier-branded smartphones are never going to be the most popular devices out there, but they do give companies the opportunity to fill in any
product portfolio gaps
. And today T-Mobile has announced
two new additions
to its lineup.

Acting as successors to the original Revvl lineup, the Revvl 2 and 2 Plus are T-Mobile's latest entry-level smartphones that include most of the features that are popular among consumers these days. Externally, the two adopt tall 18:9 displays – the regular model boasts a 5.5-inch HD screen, while the Plus version ship with a 6-inch Full-HD+ panel – that feature thick bezels above and below.
Over on the rear,
T-Mobile
has fitted a plastic panel that is home to both the T-Mobile and Revvl branding, as well as a rear-facing fingerprint scanner. Also present is a 13-megapixel main camera on the Revvl 2, and a 12+2-megapixel setup on the Revvl 2 Plus. On one final external note, both devices include Magenta-colored power keys along the frame.

Moving on to specifications, both models are powered by MediaTek processors that are clocked at 1.5GHz and 2.5GHz respectively. These processors are then paired with 2GB of RAM in the case of the Revvl 2 and 3GB of RAM when it comes to the Plus variant. Also, both smartphones ship with 32GB of expandable internal storage. Completing the setup is Android 8.1 Oreo straight out of the box and a 3,000mAh battery in the smaller model and a bigger 4,000mAh cell in the larger device.
Those of you interested in either of these devices will be able to purchase them later this week on November 16 either online or at a
T-Mobile store
. In celebration of the holiday season, customers can acquire the Revvl 2 for free when they add a line – it will retail for $168 after this promotion ends. Similarly, the Revvl 2 Plus costs $84 for a limited time, significantly cheaper than its regular $252 price tag.