T-Mobile HTC One S in black poses for the camera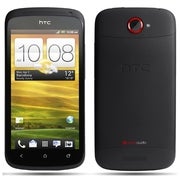 A T-Mobile customer is free to buy an
HTC One S
in any color, as long as it is Gradient Blue. The black model, which is available in other markets and sports a
fancy ceramic coating
, is not being offered by the carrier at this time. However, turns out that
you actually can own a black T-Mobile HTC One S
, yet getting your hands on one is not as easy as taking out your credit card.
T-Mobile is awarding its store representatives with a black HTC One S after reaching a certain sales goal on HTC smartphones. The black model cannot be bought, and there is no word suggesting that it will ever go on sale at all. In a similar fashion,
Verizon employees can get a limited edition Motorola DROID RAZR or RAZR MAXX
, although that is not being given out, rather offered to them at a discount price.
In terms of hardware, the black T-Mobile HTC One S is no different than the model currently offered. It has the same Snapdragon S4 processor, 4.3-inch qHD touchscreen, 8-megapixel camera, all of that encased inside a sub-8-millimeter body.
If anyone wants to get a black HTC One S for T-Mobile, we are guessing that one might end up on eBay sooner than later. Keep in mind, however, that you might have to pay a hefty price in order to own the rare specimen.