HTC One S for T-Mobile Review
35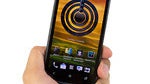 Introduction:
Strangely, it's been a while since we've seen a top-shelf Android powered smartphone for T-Mobile. Yeah, the carrier has been blessed with quality devices such as the
Samsung Galaxy S II
and
HTC Amaze 4G
, but they've been available for some time now – with nothing particularly "fresh" put out by them in the last few months. Now that spring is in full swing, the wait for something special will soon be over, as the highly anticipated
HTC One S
is set to shake things come April 25th.
Over the big pond, our friends in Europe have been taking pleasure in experiencing the beauty and wonder surrounding the middle child of HTC's One family. And soon enough, T-Mobile customers will be able to partake in it as well – thus, delivering a device that boasts the most up-to-date version of HTC's Sense UI on top of Android 4.0 Ice Cream Sandwich. Priced at $199.99 with a 2-year contract, some might question and wonder if it's valid enough to accept wholeheartedly, even more when Sprint's beefier
HTC EVO 4G LTE
is confirmed to flaunt the same price point. Regardless of that, let's dive in and find out what all the commotion is all about surrounding this bundle of joy.
The package contains:
microUSB cable
Wall Charger
Quick Start Guide
Product and Safety Information
Design:
Simply put it, T-Mobile's version of the HTC One S is an exact facsimile to the European one we reviewed recently – well, the sole difference is the T-Mobile branding it's sporting below its earpiece grill. Aside from that, the anodized aluminum unibody design of our review unit remains intact to the tooth, and more importantly, it's remarkable that HTC has managed to produce something so skinny (0.31" thick) and lightweight (4.22 oz) without compromising its choice of materials. Of course, we're mesmerized even further by its streamlined construction, though, its overall styling reminds us of a pancaked
Google Nexus One
– since it employs some familiar design traits from the original Nexus.
Overall, it's extremely comfortable to hold in the hand, thanks to its chassis boasting a fairly narrow and elongated profile. Without question, we're blown away to by the compact look for a device donning a large 4.3" display, and easily makes previous offerings like HTC Amaze 4G appear spaced out and chunky in overall size. All in all, the HTC One S is just one of those devices that looks beautiful as a rendered image, but as it makes its transition to a physical object for us to hold and touch, we're emphatically impressed to see the wonder and intrigue still intact.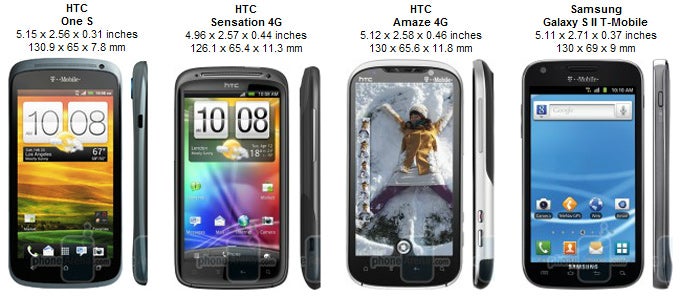 You can compare the HTC One S with many other phones using our
Size Visualization Tool
.
Becoming a standard with HTC's set of Android smartphones, the One S opts to employ a trio of
capacitive buttons
beneath its display – as opposed to being a part of the interface, much like other ICS devices.
Above the display
, micro dots line up in unison for its narrow ear piece grill, while a front-facing VGA camera sits next to it ready for those occasional video chatting sessions.
Unfortunately, its dedicated power button and volume rocker are a tad bit too flat for our liking, but at least they exhibit a reasonable amount of tactility when pressed. Also,
around its sides
, we find its noise cancelling microphone, 3.5mm headset jack, microUSB port for charging/data connectivity, and standard mic.
Around the rear
, its 8-megapixel auto-focus camera juts out from the surrounding surface and its lens is outlined with the same blue accent. Being one camera friendly device, it features an F2.0 aperture lens, backside illuminated sensor, LED flash, 1080p video recording, and the ability to snap photos while shooting a video. Prying off the top plastic cover surrounding the camera, we gain access to its microSIM card slot. On the opposite edge, another set of micro dots converge together to forms its speakerphone grill. Just a reminder to you folks, this beauty lacks both a removable battery and expandable microSD slot.
Display:
Indeed, it's not as awe-inspiring as the display on the HTC One X, but nonetheless, the 4.3" qHD (540 x 960) Super AMOLED capacitive touchscreen of the HTC One S is an appreciated upgrade when compared to the previous offerings available with T-Mobile. Being an OLED variety, we're treated to the usual set of visual eye candy normally associated with this kind of panel – such as wide viewing angles, cooler looking colors, and a high-contrast level. Despite utilizing the PenTile RGBG matrix arrangement, which is noticeably evident with the icons and text located in the notifications area, we're humbled about being able to discern most things without any problems, even more when it coughs up a respectable pixel density of 256ppi. Having been spoiled by HD displays, it's obvious that we're not going gaga over the HTC One S, but rather, it's still a pretty one to look at when it comes down to it.
HTC One S 360-degrees View:
Recommended Stories