T-Mobile G2 playing friendly with others in the Best Buy Buyer's Guide
0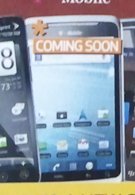 As we all still sit around and wonder when T-Mobile will finally reveal the exact launch date for its upcoming T-Mobile G2, Best Buy teases us all with the notion that it's "coming soon." Soon as in tomorrow or soon as in a few weeks? Whatever the case, it's obviously hard to say at this point, but the elusive handset is found alongside other competing handsets in the latest issue of the Best Buy Buyer's Guide.
Obviously it wouldn't hurt to think that the Android powered device is coming soon, especially when it blatantly says it in the Buyer's Guide, but the consumer electronics giant has been
accepting pre-orders for the handset for a bit now
. Still, there is only one constant thing that remains with the G2 that we're sure many people are asking – when is it going to
come out for sure
?
T-Mobile G2 Specifications
source:
Android Central