Swype will get ICS update by the end of January
3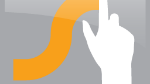 Those who jumped on the Galaxy Nexus wagon early have no doubt found that some apps still don't have support for Android 4.0 Ice Cream Sandwich, but at the least, it looks like Swype will be getting that update pretty soon.
If you've tried to install the Swype beta on your Galaxy Nexus, you'll have no doubt come up against the "This screen size is not supported" error (although it's not so much the screen size as the resolution at that size that is likely the problem.) Some of you may have just sucked it up and started using the (vastly improved) stock touch type keyboard, or maybe you've jumped to a competing gesture keyboard like FlexT9 or SlideIT, but if you've been jonesing for Swype, it's almost back.
The Swype team has announced that the ICS fix is almost done and the new beta should be released by the end of the month, which is only about a month after the swell folks from XDA got Swype working on the Nexus.
source:
Swype
via
Droid Life