SwiftKey flow brings Swype-like keyboard coming to Android
8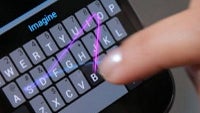 SwiftKey is showing off the newest features in its popular Android keyboard and it's all about a Swype-like gliding, or trace input. This new addition will arrive in SwiftKey 4, and it works in a straightforward way. Straightforward at least for those who have seen or used Swype on their phone - you simply move your finger across the letter pausing for a short while on the one you would have otherwise pressed.
Thus, without lifting your finger off the keyboard your kind of draw the word, and the smart correction and word recognition dictionary kicks off to help shape it on the screen.
This is not new technology, but SwiftKey is stressing the improved prediction engine arriving in the latest version of the keyboard.
"We built SwiftKey Flow from the ground up using a completely new approach that harnesses the power of our powerful prediction engine. It's our technology and we've patented it. There's nothing else out there that is able to predict, with such personalized accuracy, what you want to type from the moment your finger starts gliding on the screen. This is thanks to our use of natural language processing and machine learning through each and every innovation we create," the app maker explained for TechCrunch.
Check out a video demonstration of the features below.
source: TechCrunch