Steve Jobs and Bill Gates face each other in epic rap battle with surprise winner
25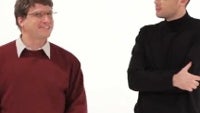 One possible measure about how geeky you are is your appreciation of epic rap battles. And if you salivate at the possibility of
Steve Jobs vs Bill Gates battle,
then don't worry - you're one of us. Also, it's on!
The folks from Epic Rap Battles of History are now into Season 2, and it's getting serious as probably the most wanted collision has finally come, but wait until you start rooting for Jobs or Gates for the win - there's a surprise third contender.
We won't spoil the fun, but we just had to tease you with some of the brilliant lyrics here. It all starts with a Steve Jobs solo, defending the creative and fun side of Apple's devices.
"All the people with the power to create use an Apple!,"
Jobs exclaims, but only to get the
"And people with jobs use a PC"
reply.
And while your Apple machine probably won't catch a virus, Gates is quick to say that if you buy a PC you can still afford a doctor. True, isn't it?