Sprint's 4-Day Dash starts today; save a minimum of $200 on the LG G4 with a working trade-in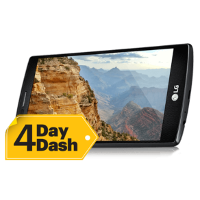 Do you covet the
LG G4
? If so, you might be interested in Sprint's 4-Day Dash promotion which kicks off today. From now through Monday, January 25th, you can save a minimum of $200 when you purchase the LG G4 from Sprint and trade-in any smartphone. The deal is open to both new and existing Sprint customers.
To qualify for the deal, the trade-in must be working, and you will have to activate a line using Sprint Easy Pay, or burn an upgrade. Keep in mind that the
LG G5
could
be unveiled as soon as February 21st
. This happens to not only be the day before MWC opens in Barcelona, it also is the same day that we expect the
Samsung Galaxy S7
and
Samsung Galaxy S7 edge
to be announced.
The wording of the promotion seems to suggest that certain trade-ins are more valuable than others, and will result in more than a $200 credit toward an LG G4 purchase. For example, if your trade-in happens to be an
Apple iPhone 6s
or
Samsung Galaxy S6
, you should receive a larger discount than the minimum. Sprint did not mention which phones will receive more than the minimum trade-in value. Common sense suggests that newer models will have a higher trade-in value than older handsets.
The promotion isn't called the 4-Day Dash for nothing. If the LG G4 is all you think about during the day, and all you dream about at night, you do not want to miss this offer. Once the sun rises on Tuesday morning, the promotion will no longer be available.
LG G4
source:
LG