Sprint to get the Nexus One?
12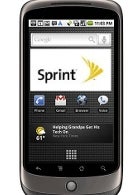 Sprint customers can stop feeling left out. Remember when we
reported
that Walmart had listed the Nexus One on its web site? Even though the giant retailer said that the posting was a mistake, it did show that the phone would be available for Sprint. While that sounds promising, it is a letter from Sprint's Customer Solutions to Gizmodo responding to an inquiry about the N-One that really gets the juices flowing. The letter reads, "Thank you for contacting Sprint regarding the nexus one. Unfortunately, this handset model is not on offer as of now. Once it is launched, you will see promotional campaigns related to the launch date, cost and the features of the handset on our Web site and other promotional media. Thank you for showing interest in our products & services. Please let us know if you would like us to assist you with anything else."
The letter certainly makes it sound like the Nexus-One has its eye set on getting launched at Sprint. As far as having to produce a CDMA version iof the handset for the pin-dropping network, such a model will be ready by March when the Verizon version of the phone is supposed to be released. With the story we
reported
the other day about a FCC filing for the device with AT&T's 3G frequencies included, a Sprint launch would appear to allow the N-One to have a version for each of the top 4 U.S. carriers. Sprint customers, start walking with your chin up. Looks like you won't be left out after all.
HTC Nexus One Specifications
|
Review
source:
Gizmodo