Sprint stores receiving Pre Advocate units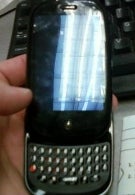 PreCentral has been tipped by a few Sprint employees that their stores have been receiving an Advocate copy of the Palm Pre. Each store is supposed to receive one unit that is given to the store's expert on all things Pre. Early comments on the handset say that it is small but that the webOS is "responsive" and "amazing" with the cards being intuitive. The sliding mechanism was described as "stiff" and mistakes in typing were made due to the cramped letters on the QWERTY keyboard with buttons that were said to be "harder" than those on the Centro.
Nothing new has come forward on the Pre's pricing or release date, and even the Advocates have no idea about the cost of the phone or the launch date. Two days of mandatory management training on the Pre will have to be completed before the actual release of the handset.
Palm Pre Preliminary Specifications
|
Hands-on
source:
precentra
l