Sprint offers 1 year of free service to students who buy unsubsidized devices
4
If you are looking for a way to save money off your phone bill and you're a student, Sprint has one of the best deals out there. The nation's third largest network would sell you most top-shelf smartphones for their full off-contract price and bundle that with 1 full year of free service including unlimited talk, text and 1GB of data each month.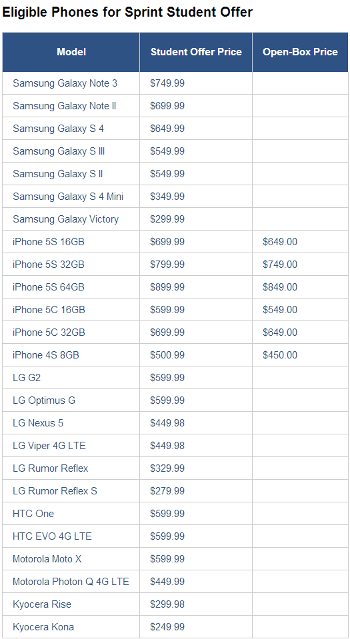 This means that you would pay the likes of $699 for a brand new iPhone 5s, $649 for the Galaxy S4 and $449 for the Nexus 5, but in exchange get one year of free service. This works out to a larger payment out of the gate, but huge savings in the longer run. If you, say, pick the iPhone 5s on Sprint's regular conditions, you'd pay $199 up-front and then $70 a month for service for a grand total of $1039 after a year. In this case, you only pay $699, so total savings arrive at $339 after the year runs out.
The deal runs in Best Buy stores and is only for Sprint phones and only for students. Anyone actively enrolled in a U.S.-based elementary, middle school, high school, college, university or accredited institute would qualify. You'd also need to provide proof of student eligibility.
Most devices that are available are sold unlocked, so after your 1-year contract expires you can continue using them on a different carrier. In order to do that, though, you should not forget to cancel right before the first year finishes. Finally, let's make it clear that Sprint and Best Buy will not match prices on these phones as this is a special offer. Hit the link below to learn more or just visit a Best Buy store to get it.
source:
Best Buy
via
Reddit