Sprint lost more subscribers in a key segment of the industry than its three rivals combined
3
Sprint's best bet for staying alive is to merge with T-Mobile. Never was that more apparent then after
Sprint released
its fiscal fourth-quarter earnings the other day. While T-Mobile continues to add net postpaid phone connections (656,000 in its latest quarter), Sprint continues to lose head count in this major category. From January through March, the company had a net loss of 189,000 phone connections in the period. During the same period a year ago, the company added a net 55,000 connections. Over fiscal year 2018, the carrier had a net loss of 162,000 postpaid phone connections.
The nation's fourth-largest carrier blamed the decline on less promotional pricing and higher churn. Speaking of which, postpaid phone churn was 1.82%, up 14 basis points year-over-year. The company did report a bump in the number of postpaid phone lines per account from 2.85 in the 2017 fourth quarter to 2.92 in the 2018 period.
Sprint also announced that it lost a net 30,000 prepaid phone subscribers over the three months compared to a net addition of 170,000 during the previous year. Sprint said that this was due to migration from the carrier's prepaid service to postpaid. Prepaid churn was 4.37%, up 7 basis points year-over-year.
For the quarter, Sprint booked a net loss of $2.2 billion, although $2 billion of that was due to a charge to write goodwill off of the books. This was done to get the value of certain assets that the company is holding, down to a more realistic view of what they are really worth. During the same quarter last year, Sprint earned $69 million. For all of 2018, the company reported a net loss of $1.9 billion after the aforementioned charge. Without the bookkeeping entry, Sprint would have earned about $100,000 for the year.
"Sprint delivered on its plan for fiscal 2018, as we met all of our financial guidance for the year. While we've made progress, there are certainly continued challenges to address, which will continue to put pressure on our service revenue and retail customer growth."-Michel Combes, CEO, Sprint
T-Mobile and Sprint recently extended their deadline to close on the merger to July 29th

The company notes that it now has its 2.5GHz mid-range spectrum deployed on 80% of its macro sites. It also has deployed 1,500 massive MIMO radios, which add connections between a transmitter and a phone. This will result in more capacity and faster data speed for its LTE network. With an upcoming software update, this gear also will allow for mobile 5G service to be launched in Dallas, Atlanta, Chicago, and Kansas City soon. By the end of next month, mobile 5G service will be expanded to Houston, L.A., New York City, Phoenix and Washington D.C. 5G compatible devices from LG, Samsung and HTC will also be available soon, Sprint said.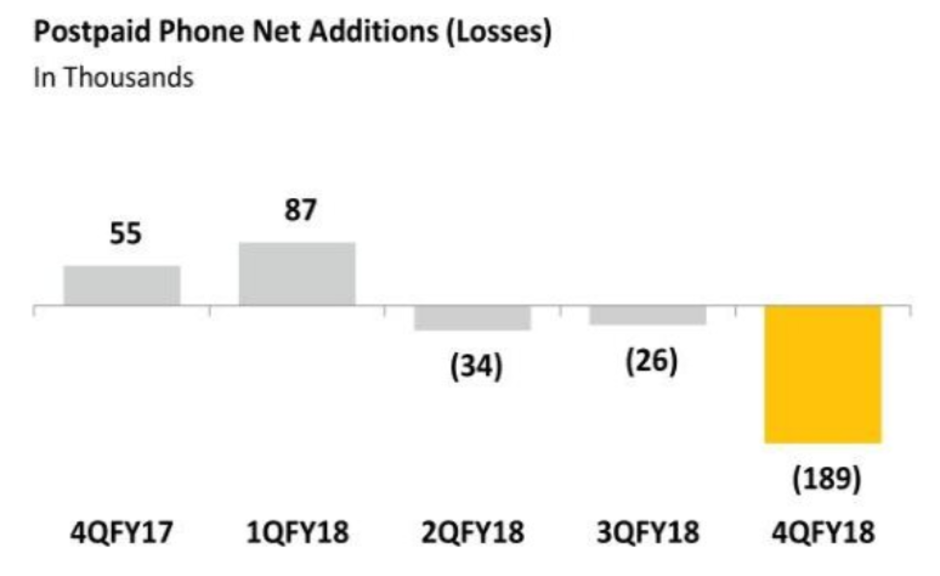 Sprint has now lost net postpaid phone subscribers over each of the last three quarters
T-Mobile and Sprint recently extended their deadline to close on their $26.5 billion merger from April 28th to July 29th. The two wireless providers await regulatory approval from the FCC and the DOJ. Recently, U.S. Attorney General William Barr recused himself from taking part in the Justice Department's decision, stating that he had a conflict of interest. T-Mobile CEO John Legere denied a report stating that
executives at both carriers were already informed that the merger will not be approved
as presently structured.
While Sprint is currently sitting on a $39 billion pile of debt, it also has a hoard of valuable mid-range 2.5GHz spectrum that fits perfectly with T-Mobile's low-frequency 600MHz airwaves. If their merger gets approved, the pair plan on using their combined airwaves to launch the first nationwide 5G network in the U.S. next year. If the deal doesn't go through, Sprint could sell off some of the spectrum to reduce debt, making itself more palatable for another buyer. A recent report named Comcast and Charter Communications, both with MVNOs that use the Verizon network, as possible buyers if the current deal does not go through.