Sprint could help Clearwire despite bearish outlook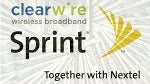 Sprint's CEO Dan Hesse stepped up to dismiss talk about a funding cut to suffering wireless ISP Clearwire at the OpenMobile conference in San Francisco yesterday. Clearwire, 54 percent owned by Sprint, recently received a 'going concern' notice, but Hesse dismissed it as a mere technicality only due to Clearwire's less than 12-month worth of funding left. Hesse however did not commit to a particular figure or any raise in funding.
Clearwire has been the hot topic in the last few days as the wireless ISP's shares are losing value and more people are concerned about how its difficulties could affect future service rollout. The company
announced that it will slash 15 percent of its workforce
in an attempt to save funds after it disclosed a net loss of $564.6 million.
Clearwire, branded as Clear, will halt retail store expansion and further delay its expected smartphone. Financial woes however have not been a complete showstopper so far as the company is still planning to start its 4G networks in Miami, Denver, Los Angeles and San Francisco by the end of the year. Up until now, the wireless ISP has enjoyed a steady growth from under 1 million to 2.8 million subscribers to its 4G service.
source:
Reuters
via
Electronista