Sprint, AT&T launch mobile payment services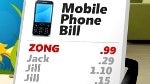 As
promised
, Sprint introduced its Mobile Wallet checkout solution at a developers' conference. The service is a container for different billing vehicles - PayPal, Google Checkout and Amazon Payment being some of them. You will also be able to directly enter your own credit/debit card info in it, and choose what to use it for. There is an universal PIN for purchases from all of these accounts, and upon checkout you just need to choose the Sprint Mobile Wallet (SMW) option, to get your account billed. The service will be operational in November, and will come preinstalled on Sprint phones from now on.
Not to be outdone in the latest fad, AT&T also announced that it is teaming up with mobile payment providers Boku, Zong and BilltoMobile. These three have been in the mobile payment business for a while, and having a large carrier behind their back will surely boost the acceptance rate in the US. BilltoMobile has been working with Verizon since May. The companies utilize a specialized programming interface, created by AT&T, that allows them direct access to the carrier's billing system. This is something that Sprint has been reluctant to do with SMW, and provides it just as a checkout container for now.
The mobile payment services Boku, Zong, and BilltoMobile, already have a customer base, carriers and retailers working with them. They will now let AT&T subscribers make purchases just by entering their mobile number, and the amount will be charged directly against the AT&T cell phone account.
Well, it seems that finally mobile payment is getting some traction in the US. For a thorough overview of the existing and upcoming systems in the US and abroad, you can read our
comprehensive article
on the current state of mobile wallet affairs.
source:
Sprint
&
FierceMobile